Lessons from life of Narendra Modi leadership qualities and leadership style. "You can either love him or hate him but you cannot ignore him."
Life Of Narendra Modi
Full name: Narendra Damodardas Modi
Born on 17 September 1950
Birth place: Gujarati Hindu family of grocers in Vadnagar, Mehsana district, Bombay State (present-day Gujarat)
Narendra Modi's inspiring life journey to the Office of Prime Minister began in the by-lanes of Vadnagar, a small town in North Gujarat's Mehsana district.
He was born on the 17th of September 1950; three years after India had gained its Independence. This makes him the first Prime Minister to be born in independent India.
Mr. Modi is the third child born to Damodardas Modi and Hiraba Modi. Mr. Modi comes from a family of humble origins and modest means. The entire family lived in a small single storey house which was approximately 40 feet by 12 feet.
Narendra Modi's formative years taught him early tough lessons as he balanced his studies, non-academic life to spare time to work at the family owned Tea Stall as the family struggled to make ends meet.
He was highly influenced by the works of Swami Vivekananda which laid the foundation of his journey towards spiritualism and which inspired him to pursue the mission to fulfill Swamiji's dream of making India a Jagat Guru.
He joined the Rashtriya Swayamsevak Sangh (RSS) in the early 1970s and set up a unit of the RSS's students' wing, the Akhil Bharatiya Vidyarthi Parishad, in his area. Modi rose steadily in the RSS hierarchy, and his association with the organization significantly benefited his subsequent political career.
You can read more about life of Narendra Modi here:
https://www.pmindia.gov.in/en/personal_life_story/personal-life-story/
https://www.britannica.com/biography/Narendra-Modi
Books About Life Of Narendra Modi
Narendra Modi: A Political Biography By Andy Marino
MODI@20: Dreams Meet Delivery
By Sudha Murty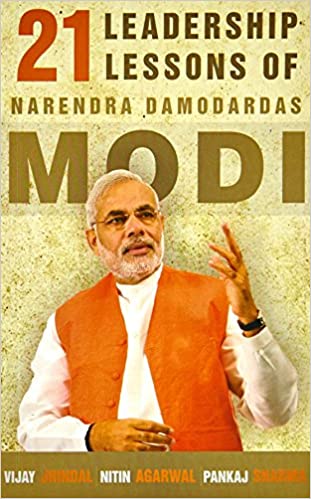 21 Leadership Lessons of Narendra Damodardas Modi
By Vijay Jhindal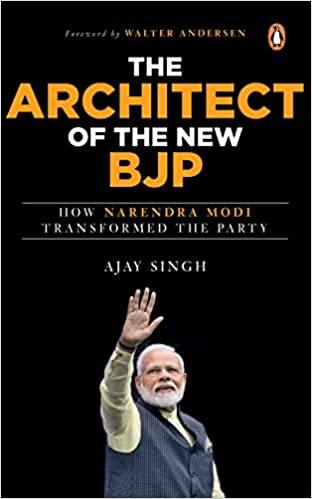 The Architect of the New BJP: How Narendra Modi Transformed the Party
By Ajay Singh
Common Man's Pm Narendra Modi
By Kishor Makwana
NARENDRA MODI: CREATIVE DISRUPTOR -: The Maker of New India
By R. Balashankar
Leadership Lessons To Learn From Life Of Narendra Modi – Leadership Qualities Of Modi
Narendra Modi, the Prime Minister of India, won 2019 Lok Sabha Elections for the second time. This is something that compelled me to think deeper and find out some leadership lessons to learn from the life of Narendra Modi. An opportunity to know more about leadership style and leadership qualities of Modi. Lessons that can be considered as management lessons as well as life lessons.
Narendra Damodardas Modi, the 14th and 15th Prime Minister of India and the Chief Minister of Gujarat from 2001 to 2014. A member of the Bharatiya Janata Party (BJP), and the Rashtriya Swayamsevak Sangh (RSS). From selling tea to becoming the Prime Minister of India, leadership journey from the life of Narendra Modi has been very inspiring.
He is the first prime minister outside of the Indian National Congress to win two consecutive terms (2014-2019 and 2019-2024) with a full majority, and the second one to complete five years in office after Late Shri Atal Bihari Vajpayee (former Prime Minister of India).
He has a unique kind of personality.
"You can either love him or hate him but you cannot ignore him."
Narendra Modi has a peculiar style of giving his leadership speech. He has won hearts not just in India but around the globe as well. He was also declared as Facebook's most popular world leader followed by Donald Trump, the US President.
I won't get into political aspects or share my political opinion as you might have another view and I totally respect that. Nobody can deny the fact that there is always something to learn from such great global leaders.
Such leadership lessons and qualities are immensely valuable, relatable and useful for people like you and I who want to do something big in their life.
Here are 7 leadership lessons and leadership qualities that I think one can learn from Narendra Modi leadership style and I'm sharing these with you so that you too can grow.
Here we go…
Leadership Qualities Of Modi
Leadership Lesson #1 – Change The Game
You don't have to follow the traditional rules of an existing game. If you want to create a bigger impact and emerge as an astounding leader, change the game.
How one can change the game?
By disruption.
This is how most of the innovative companies in the world have outgrown their competition.
By the time your competitors will have a clue about it, you'll be much ahead in the game. Understand how your audience is evolving and innovating to bring in new ways to stay ahead.
This is what Narendra Modi did in 2014 and in 2019, may be in 2024 as well and all the opposition parties still don't have any idea till now.
They are still playing the old game of considering people as vote bank based on caste, religion, and regionalism, while Modi and BJP have already change the entire game of politics by talking about the nation as a whole, one entity, one family.
From usual parliamentary form of election, where people use to vote for the parties they were loyal to since generations, he has changed it to a presidential kind of election like in Western Countries, where people vote for the leadership qualities.
Narendra Modi had a clear win because of his unbeatable leadership qualities, leadership style and long term vision for the nation.
Instead of asking for votes for the party and himself, he appealed that he is not the one who is fighting for election, it's the people of India who are fighting for the nation, for the development and growth.
As a leader, you need to think of ways which are unconventional. Bring your competitors to a platform where you have the expertise and they are still clueless. Use their ignorance and over-confidence to your advantage.
Leadership Lesson #2 – Focus On Servant Leadership
Gone are the days when a leadership position was considered as the position of authority and power. Now, if you think that being in a leadership role is an advantage to enjoy all the privileges, then you might be thinking in the wrong direction.
This is the time when you have to consider yourself as a servant while being a leader.
Narendra Modi has always called him a 'Pradhan Sevak' (Prime Servant) instead of 'Pradhan Mantri' (Prime Minister). Not just Servant, he called himself as Security Guard of India (Chowkidar).
It was also used by Congress as a campaign slogan 'Chowkidar Chor Hai' (The guard is a thief) against Modi but it backfired on the opposition and apparently helped Modi.
Consider yourself as a leader to serve. Come up with a vision and let people join you rather than follow you. Don't look at people as just numbers on your dashboard, look at them as other human beings just like you with feelings, emotions, and aspirations.
Care for them and invest in them so that they can emerge as new leaders in their areas of expertise. Servant leadership is all about putting your people before yourself.
Leadership Lesson #3 – Be A Visionary, Think Long Term
In 2017, on 75 years of the Quit India Movement, Narendra Modi pledged for a vision of making India terrorism, corruption and poverty free by 2022. A program called "Sankalp Se Siddhi" was initiated.
"The New India Movement 2017-2022 envisages India free from poverty, corruption, terrorism, communalism, casteism, and uncleanliness and unite the entire country by adopting good governance and using technology."
He knew his tenure was going to end in 2019 but still, he proposed his vision for 2022.
This not only shows his confidence in his work but also his long term vision and passion for the nation. Some critics might call it as a marketing gimmick and some would appreciate it.
But that's how great leaders work. They never work for short term gains, they work for long term stability and growth for the larger good of their people.
Related Posts:
Leadership Lesson #4 – Don't Be Afraid Of Decision Making
Decision making is the necessary evil of any leadership position. Even in your personal life, at every point in your life, you have to make decisions which shape your life. You might be in a dilemma to choose what to do or what not to do, but it is inevitable.
Rather than running away from such deciding moments, be bold, rely on your knowledge, experience and yourself, and make that decision. It might go wrong or might prove as something great but in the end, you'll learn and grow.
Narendra Modi has shown a decisive attitude. He never cares about whether his decision will be right or wrong, will be appreciated or not. He takes the decision with the right intent in favor of his nation and follows his heart.
During his last tenure as PM of India, he took so many bold decisions which could have cost him his position but he still took them because he thought it would be beneficial for the nation. And in return, people of India chose him again as the Prime Minister of India for 2019 – 2024.
Be it organizational leadership or personal leadership, lead from the front, be bold in making decisions, no matter if it goes right or wrong, if your heart says it is for the larger good, go ahead and make it happen.
Leadership Lesson #5 – Develop The Art Of Communication
Understand your audience and develop your art of communication accordingly.
If you have listened to any of Narendra Modi's speeches or conversations, it's hard to ignore how well versed he is. He is very much effective and persuasive in his communication. His speeches energize and motivate people.
Even the President of India, Pranab Mukherjee had once said that PM Narendra Modi is one of the most effective communicators.
He knows what to say, how to say and when to say. This has made him highly popular amongst masses in India as well as other global leaders.
As a leader, your communication skill is one of the most crucial arsenals in your bag. You need to work on it and spread your charisma with it.
Be it public speaking or one to one communication, written or verbal, you need to improve it day after day. If you feel that you need professional help then do it without thinking twice.
Leadership Lesson #6 – Lead By Example
Let your work speak for you. Let your people see you in action and learn by observing you, not by your instructions. It's very easy to preach but hard to follow. And the true leader is the one who follows.
Narendra Modi has worked for the people on the ground. No matter how much naysayers kept on pulling his leg or spreading rumors, he didn't pay any heed. Rather, he kept moving forward with his vision for the entire nation.
During his 5 year tenure as the Prime Minister of India from 2014 to 2019, he was available 24*7 and didn't even take a single leave or holiday.
In his tenure, Modi had taken so many initiatives which are meant to benefit people at the grass root level, the real India, rural India.
Be it providing basic sanitation facilities (Swachh Bharat Abhiyan), banking facilities (Jan Dhan Yojana), cooking gas (Ujjwala Yojna), electricity to villages, life insurance for poor people (Ayushman Bharat), easy loans (Mudra Yojana), crop insurance for farmers (Fasal Bima Yojana) and many more.
He took care of patriotic sentiments of people by taking immediate actions against terrorist attacks of Uri, Pulwama, and release of return of IAF Wing Commander Abhinandan Varthaman by using diplomatic global pressure who was captured by Pakistan.
Even pushing the UN for declaring 21 June as International Yoga Day to spread awareness about the importance of Yoga and its origin from India at the global level.
He left no opportunity to do something for the people of this country or brand India at the global level.
Not just that, when it comes to promoting his party all over the nation, he stays at the forefront and addresses 100's of rallies with lakhs of people. He travels to each and every corner of the country.
And that's the reason, people have voted him again to be the Prime Minister of India for 2019 to 2024.
As a leader, the qualities and virtues that you want your people to inculcate, first, portray them in your behavior. The discipline you want your people to follow, show it in your routine, first.
A human being learns more by observation rather than written or verbal instructions. Become an example for your people by demonstrating the leadership qualities and you'll see the results.
Leadership Lesson #7 – Stay Away From Mudslinging
When you are in a leadership position, there will be people who would talk ill about you for various reasons. It is highly tempting to respond back with the same level of animosity. But great leaders don't do it.
They might respond in a very subtle way at an appropriate time but they never get into a never-ending mudslinging war of words.
In the case of life of Narendra Modi, the opposition leaders kept on talking so many bad things about him during his tenure as Prime Minister. It was so bad that they even forgot that he is the Prime Minister of one of the largest democratic countries of the world, one of the fastest growing nations.
But he never reacted to any of those personal attacks. He responded with the quality of his work and ethics. Even if he responded once in a while, he tried to maintain the courtesy.
There's a famous quote about it which you might want to ponder upon,
"I learned long ago, never to wrestle with a pig. You get dirty, and besides, the pig likes it." – George Bernard Shaw
Read more such inspirational and motivational quotes here.
This is something people like you and I must learn from the life of Narendra Modi. Because getting into such petty arguments and war of words does no good to anybody. Rather it takes you down and moves you away from the path to success.
Just focus on your goals and work for them.
Leadership Quotes From Life Of Narendra Modi
"I am a very optimistic man and only an optimistic man can bring optimism in the country." Narendra Modi

"Hard work never brings fatigue. It brings satisfaction." Narendra Modi

"Once we decide we have to do something, we can go miles ahead." Narendra Modi

"We should remain students for lifetime. You should be ready and yearn to learn from every moment of life." Narendra Modi

"My experience in Gujarat shows that howsoever big a problem might be, it is not insurmountable if we have the will to act. " Narendra Modi

"Mind is never a problem. Mindset is." Narendra Modi

"Each one of us has both; good and evil virtues. Those who decide to focus on the good ones succeed in life." Narendra Modi

"Don't dream to be something but rather dream to do something great." Narendra Modi

"By getting an opportunity to serve society, we get a chance to repay our debt." Narendra Modi

"Unless and until you inspire the people, you will not get results. Imposition will never give you the results. Inspiration will always give you the results." Narendra Modi

"It is important how we view the youth of our nation. To simply consider them as new age voters will be a big mistake. They are the new age power." Narendra Modi
Conclusion
These are the lessons which I got to learn from life of Narendra Modi and his leadership qualities and style. You may call them lessons on leadership, management, life or personal development. But these are the leadership qualities of Modi which you can find in almost all the great leaders in the world.
No matter in which area of life you are. Be it a businessman, a professional, a student or someone who is striving for personal leadership, these lessons are worth to learn from.
I hope these lessons on leadership qualities of Modi were useful for you and you could learn something new from life of Narendra Modi.
Which of these leadership lessons and qualities stood out for you? Or would you like to share any other lessons from Narendra Modi leadership style?
Please write about it in the comments. I'll respond and would include it in the article.
Read books from these amazing collections to support yourself and grow in life:
A Small Request
If you found this article about life of Narendra Modi useful, please share it with your friends on Facebook, Twitter or any other social media. It'll help me reach more readers like you and grow this community of amazing leaders like you 🙂