Best Deep Love Quotes to Express Your Feelings 2023
Being in love is special and finding ways to express that love to your significant other is challenging too. We bring our latest collection of deep love quotes to make your life easier.
These 'I Love You Quotes' have been picked with care to help you express how much you love and keep the spark on. Love is one of the amazing and incredible things in life. So, cultivate it and nurture it with utmost care.
Love like there's no tomorrow and pour your heart out to that someone special using these amazing inspiring deep love quotes.
Although, it is difficult to express the feeling of love in words but I'll help you to find the best match from these deep love quotes. So, check them out and share with your beloved before it's too late.
Related: Best Quotes about Love and Friendship
When it comes to express your love, never hold back. Just go ahead and share it all.
And if it's your first time, check out this video 🙂
Ways To Say I Love You
Deep Love Quotes to Express Your Feeling
Let's dive in…
1) "My heart is and always will be yours." – Jane Austen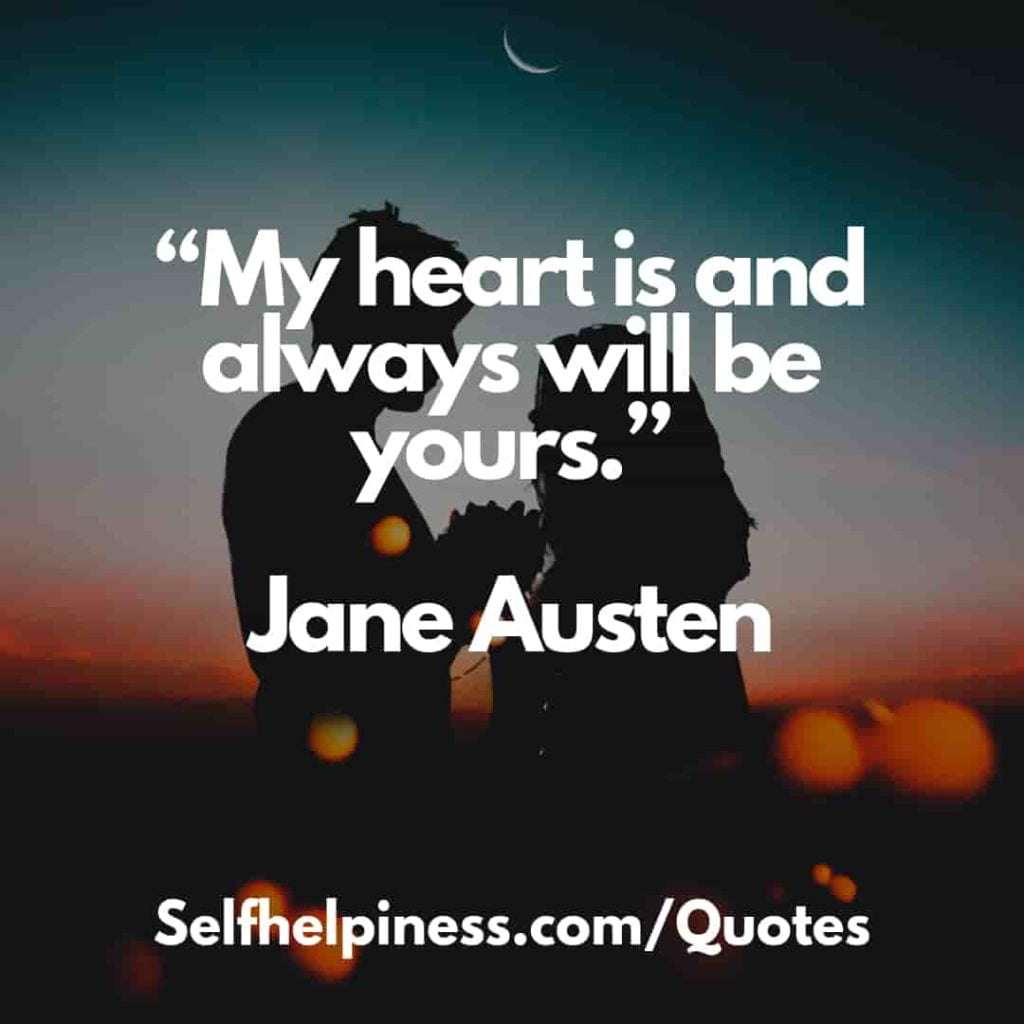 2) "To the world, you may be one person, but to me, you are the world." – Anonymous
3) "So, I love you because the entire universe conspired to help me find you." – The Alchemist by Paulo Coelho
4) "When I tell you I love you, I don't say it out of habit, I say it to remind you that you are my life." – Anonymous
5) "I saw that you were perfect, and so I loved you. Then I saw that you were not perfect and I loved you even more." – Angelita Lim
6) "Your love shines in my heart as the sun that shines upon the earth." – Eleanor Di Guillo
7) "If I know what love is, it is because of you."–Hermann Hesse
8) "Each day I love you more, today more than yesterday and less than tomorrow." – Rosemonde Gerard
9) "You give me the kind of feelings people write novels about." – Anonymous
10) "You are my favorite notification." – Anonymous
Best I Love You Quotes to Express How You Feel
11) "I'm in love with you, and I'm not in the business of denying myself the simple pleasure of saying true things. I'm in love with you, and I know that love is just a shout into the void, and that oblivion is inevitable, and that we're all doomed and that there will come a day when all our labor has been returned to dust, and I know the sun will swallow the only earth we'll ever have, and I am in love with you."
— The Fault in Our Stars by John Green
12) "You know it's love when all you want is that person to be happy, even if you're not part of their happiness."— Julia Roberts
13) "If I have done anything right in my life, it is that I gave my heart to you." – Anonymous
14) "I'm happiest when you are just next to me" – Anonymous
15) "The water shines only by the sun. And it is you who are my sun." – Charles de Leusse
Deep I Love You Quotes for Him or Her
16) "I swear I couldn't love you more than I do right now, and yet I know I will tomorrow." — Leo Christopher
17) "I love you" begins by I, but it ends up by you." ― Charles de Leusse
18) "I love you not only for what you are, but for what I am when I am with you." – Roy Croft
19) "Loving you is not a task, loving you is a privilege and I'm grateful for that." – Keshav Sharma
20) "You are every reason, every hope and every dream I've ever had." – The Notebook by Nicolas Sparks
21) "You know you're in love when you can't fall asleep because reality is finally better than your dreams." ― Dr. Seuss
22) "There can be no deep disappointment where there is not deep love." – Martin Luther King, Jr.
23) "Love grows by giving. The love we give away is the only love we keep. The only way to retain love is to give it away." – Elbert Hubbard
24) "The way to love anything is to realize that it may be lost." — Gilbert K. Chesterton
25) "Darkness cannot drive out darkness: only light can do that. Hate cannot drive out hate: only love can do that." — Martin Luther King Jr.
Living for Love Quotes
26) "Let the beauty of what you love be what you do." – Rumi
27) "My life looks perfect just because you are in it." – Anonymous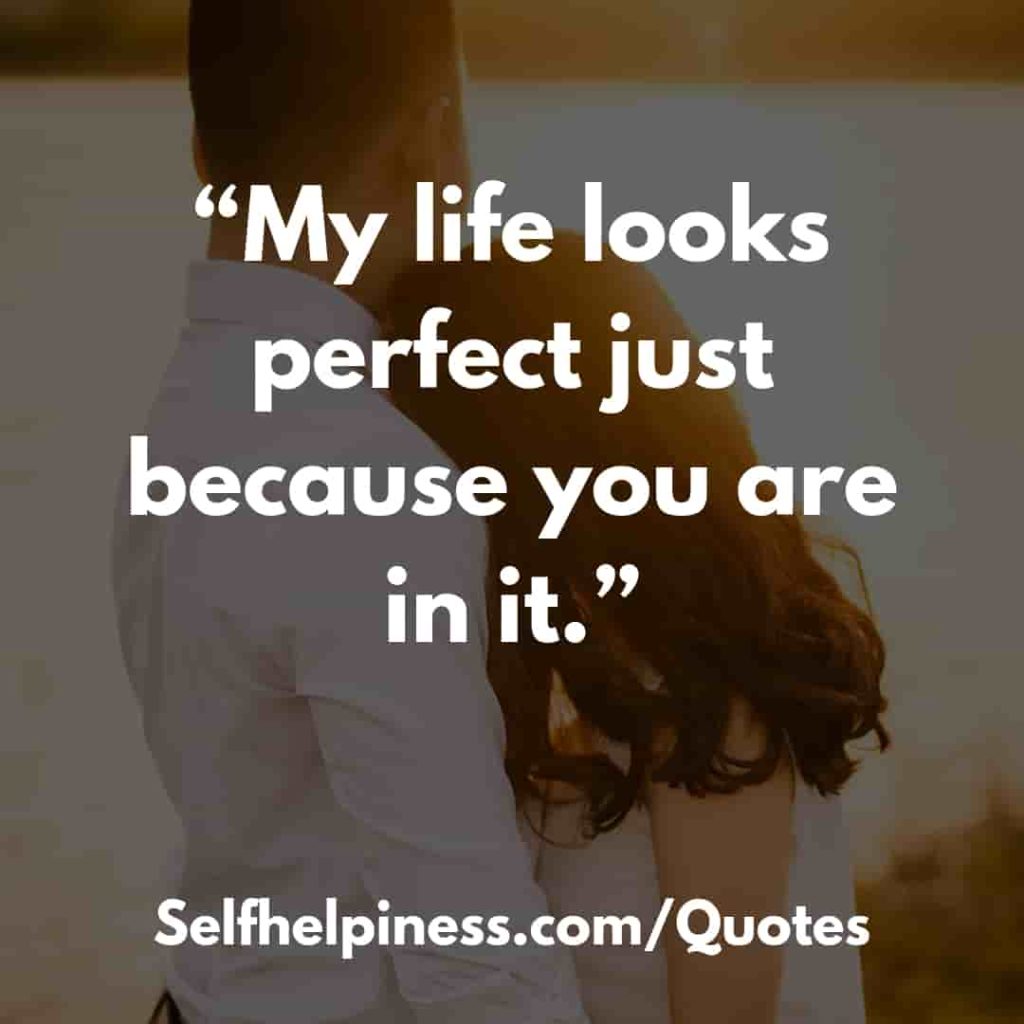 28) "We are shaped and fashioned by what we love." — Johann Wolfgang von Goethe
29) "The best and most beautiful things in this world cannot be seen or even heard, but must be felt with the heart." — Helen Keller
30) "Life without love is like a tree without blossoms or fruit." — Khalil Gibran
31) "Where there is love there is life." — Mahatma Gandhi
32) "Love isn't finding a perfect person. It's seeing an imperfect person perfectly." – Sam Keen
Deep Love Quotes for Her
33) "No reason can ever justify why and how much I love you. It's beyond all definitions and rules of this world." – Anonymous
34) "I will never be perfect for you, but I will always imperfectly try to be." – Atticus
35) "You are my paradise and I would happily get lost in you for a lifetime." – Anonymous
36) "The last time I fell in love with you was the moment I just thought about you and you are always on my mind." – Keshav Sharma
37) "It was the way you laughed, I knew I wanted that in my life." – R. M. Drake
38) "The very first moment I beheld him, my heart was irrevocably gone." ― Jane Austen
39) "Romance is the glamour which turns the dust of everyday life into a golden haze." ― Elinor Glyn
40) "To love is nothing. To be loved is something. But to love and be loved, that's everything." — T. Tolis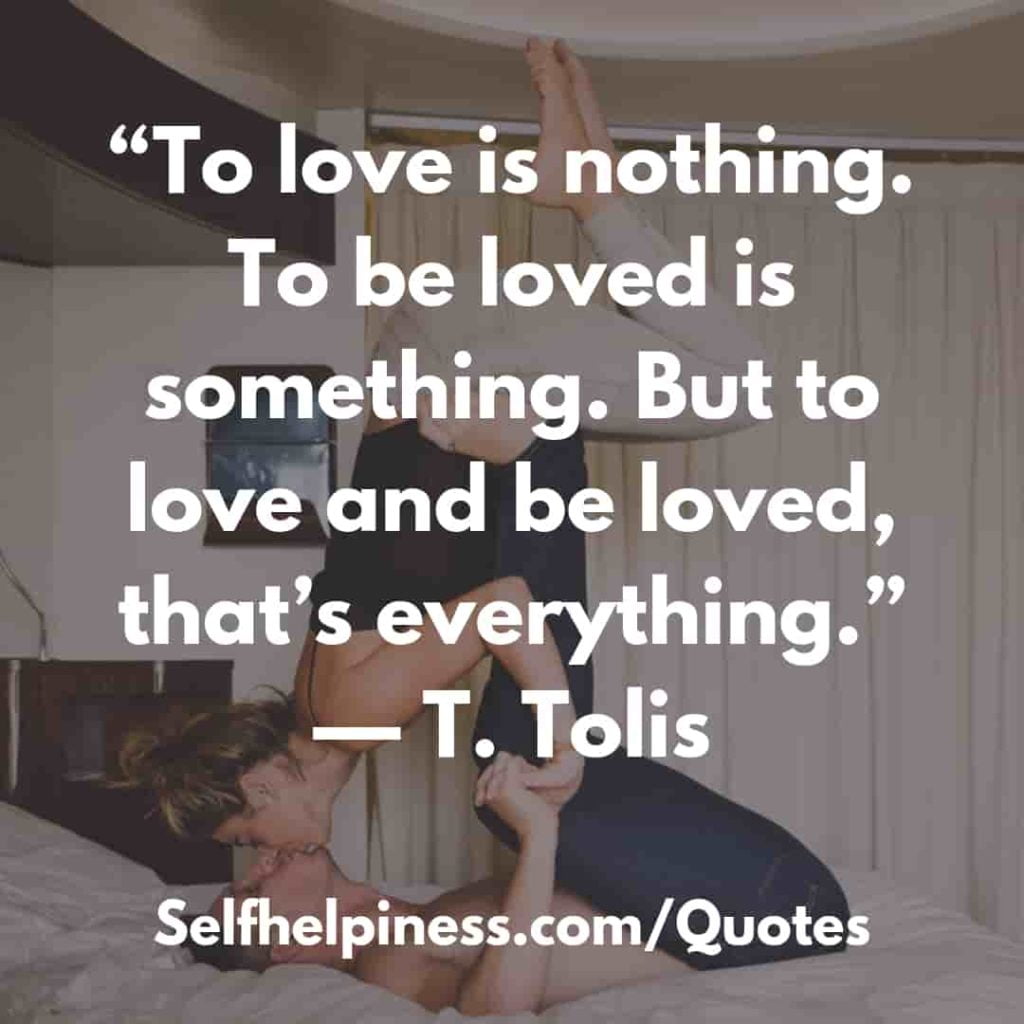 41) "All you need is love. But a little chocolate now and then doesn't hurt." — Charles Schulz
42) "I got lost in him, and it was the kind of lost that's exactly like being found." — Claire LaZebnik
Quotes of Inspiration of Love
43) "Love yourself first and everything else falls into line. You really have to love yourself to get anything done in this world."— Lucille Ball
44) "The most important thing in life is to learn how to give out love, and to let it come in." — Morrie Schwartz
45) "Being deeply loved by someone gives you strength, while loving someone deeply gives you courage." — Lao Tzu
46) "The greatest healing therapy is friendship and love." — Hubert H. Humphrey
47) "When love is not madness it is not love." – Pedro Calderon
Lifetime Quotes about Love
48) "At the touch of love everyone becomes a poet." — Plato
49) "Keep love in your heart. A life without it is like a sunless garden when the flowers are dead." — Oscar Wilde
50) "The art of love is largely the art of persistence." — Albert Ellis
51) "I have decided to stick with love. Hate is too great a burden to bear." — Martin Luther King, Jr.
52) "Better to have lost and loved than never to have loved at all." — Ernest Hemingway
53) "You don't love someone for their looks, or their clothes, or for their fancy car, but because they sing a song only you can hear." – Oscar Wilde
Inspired Quotes for Love
54) "Lots of people want to ride with you in the limo, but what you want is someone who will take the bus with you when the limo breaks down." — Oprah Winfrey
55) "You yourself, as much as anybody in the entire universe, deserve your love and affection." – Buddha
56) "Love is an untamed force. When we try to control it, it destroys us. When we try to imprison it, it enslaves us. When we try to understand it, it leaves us feeling lost and confused." — The Alchemist, Paulo Coelho
57) "We are most alive when we're in love." — John Updike
58) "Love is a better teacher than duty." — Albert Einstein
You are Love Quotes
59) "I know of no greater happiness than to be with you all the time, without interruption, without end." – Franz Kafka
60) "I never knew how to worship until I knew how to love." — Henry Ward Beecher
61) "If I know what love is, it is because of you." – Hermann Hesse
62) "If you live to be a hundred, I want to live to be a hundred minus one day so I never have to live without you." – A. A. Milne
63) "I would rather spend one lifetime with you, than face all the ages of this world alone." – J.R.R. Tolkien
I Love You Quotes straight from the Heart
64) "I love you, and I will love you until I die, and if there's a life after that, I'll love you then." – Cassandra Clare
65) "There is a madness in loving you, a lack of reason that makes it feel so flawless." – Leo Christopher
66) "If rain drops were kisses, I'd send you showers. If hugs were seas, I'd send you oceans. And if love was a person I'd send you me." – Emily Bronte
67) "Tonight I can only say that I love you too well for my peace of mind, and that absence from you is death to me." – Honore de Balzac
68) "Immature love says I love you because I need you. Mature love says I need you because I love you." – Erich Fromm
69) "When I say I love you, it means much more than these words could ever mean." – Anonymous
70) "If love is blind, I'm happy to live without eyes because I have you." – Anonymous
Which of these deep love quotes was your favorite?
Love is something which can never be expressed in mere words but still we try to because of the impact it has on us.
Finding someone you deeply love is great but having someone who loves you back is the most fortunate thing.
I hope that these cute sweet deep love quotes will inspire you to cultivate love and appreciate it in your life.
If you have someone in your life worthy of such love, let them know, express your feelings. And believe me, you'll feel much better. You'll thank yourself.
Did you find these deep love quotes helpful? Which of these I love you quotes is your favorite? Do you know more deep love quotes better than these? 🙂 Please tell us in the comment section.
If you want your significant other to know how much you love them, do share this post with them 🙂